The Final Girls
5 Fresh Pretzels
Alright y'all, are you ready for the greatest horror comedy of all time? Yeah, you are. I adore this movie and watch it every year. I wanted to share it with you guys now so that you have a chance to watch before Halloween and, believe me, if you don't watch it you're missing out. Without further LeRoux ado I give you The Final Girls.
I mean, I don't feel like I need to say anything else. If you watched that trailer and don't want to watch the movie immediately then you need to check your pulse. It's a genius move that somehow manages to blend a story about grief, a hilariously bad 80's slasher movie, and a genuinely scary horror film all together.
The cast is amazing. You guys probably recognize a lot of these folks but you might not be familiar with the actress who plays Tina.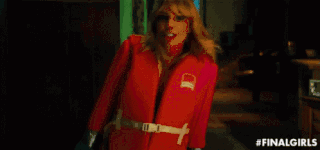 This is Tina in action. You're gonna love her. She absolutely kills it, no pun intended.
The look of the movie is beautiful. From the grainy quality of the Camp Bloodbath trailer to the technicolor dream world that the kids stumble on when they're sucked into the movie. All the colors are heightened. The flowers are jewel like. The sky during the final battle is an indigo and purple nightmare.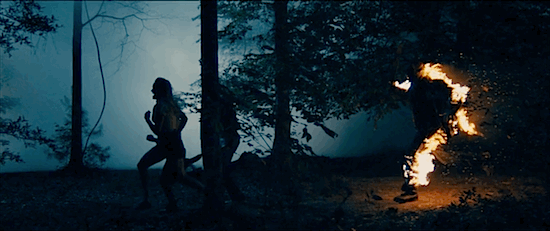 The way the black and white tones of flashbacks seep down the frame like candle wax or the title cards appear as physical obstacles that the characters have to duck or step over. It's just so smart and cool with an unexpected and awesome ending.
Genuinely, I love it. Anyone who enjoys Scream or Cabin in the Woods will be down with this movie. It's surprisingly sweet and hella fun with a great 80's soundtrack. You'll come for the scares and the LOLs but I can guarantee that you will not be able to listen to 'Bette Davis Eyes' without tearing up ever again. You're welcome. It's  legitimately hilarious.  The jokes and the writing hold up no matter how many times you watch it and it's light on the blood and nudity so you can watch it with the whole family if that's your thing.
Seriously, if you want a great scary movie night make yourself some popcorn, turn down the lights and stream  The Final Girls. You're good to go. It's one of the most unique and touching horror movies ever made. Now, get thee to Camp Bloodbath! It's gonna be awesome.