4 Pretzels.
Subtitle: The Mama Episode
The Mama Episode in an inevitable occurrence, and it makes me sob every time. Some of our queens have supportive family, some of them don't, some of them have no family. It's those last two groups who get me.
Jackie Cox broke my heart. Widow for sure broke my heart. The mama episodes are always rough. I cry like a baby every mama episode.
Let's get into it, shall we?
The Aftermath
So, our sweet little Rock M. got sent packin'. Do I agree with this decision? Absolutely not. I stand by what I said last week, Aiden should have gone home.
Our remaining queens were also sad to see Rock go. Probably because she broke down leaving the stage and legit sobbed.
Jaida kinda came for Aiden a little bit, and I don't blame her. It's aggravating when people aren't appearing to work hard when you're working your ass off. Again, maybe she'll prove me wrong.
The Mini Challenge: Girl, we're skippin' it this week
Sometimes, when we have a big Main Challenge, we don't mess with the Mini. And this week is a biggie.
The Main Challenge: Gay's Anatomy, an Acting Challenge
Acting challenges always make me a little nervous. This season, though, is packed with queens who can act, which is unusual.
Gigi Goode and Nicky Doll were tasked with casting the roles. We had a few people who were pouty pants about their roles, but it all worked out in the end. Widow and Aiden were both unsure, but both did well. Widow did great, actually.
Gigi and Nicky cast Aiden as a ghost, which was maybe a minor read. She had a Mae West vibe; it probably worked for some people. But I only have eyes for one Mae West.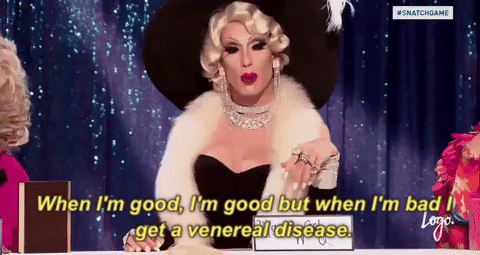 The acting challenge went surprisingly well, no doo-wa, doo-wa moments, anyway. Jaida, bless her, tried so hard she missed the jokes. But, yeah, everyone did pretty well. It wasn't as painful as most acting challenges.
Category is: Planet of the Capes
My favorite looks:
Gigi Goode – girl scout
Jackie Cox – belly dancer
Widow – tits out watermelon. How you not gonna like a tits out watermelon?
Honorable mention: Crystal Methyd. She's just so fun and interesting.
My least favorite:
Brita. I hated that Little Red Riding Hood situation. Look, a chapped mermaid dress is a hard look to pull off, and I give Brita credit for trying. But, girl, it didn't work. I've seen it work exactly once.
Honestly, Aquaria, our Season 10 winner, can wear literally anything. Or nothing. She did both on her season, and pulled both off beautifully.
I also really hated Sherry Pie's take on the cape. Look, I'll just say it, I'm not a fan of Elvis. I'm certainly not a fan of cheesy Vegas Elvis. It just didn't work for me.
And the Winner Is: 
Mother tuckin' Sherry Pie.
The Bottom Two of the Week:
Heidi vs. Nicky Doll.
I hate that Heidi was in the bottom, but I've been waiting to see her lip sync since episode one when she pulled out that amazing performance despite being poisoned by kale.
Y'all, our sweet little Nicky Doll went home. I love her, she's beautiful, and I think she's a nice person. I understand why she went home, I was just sad to see her go.
Guest Judge: Normani
Okay, Princess Jasmine. Her outfit was beautiful, she gave decent commentary, but she was no Leslie Jones.
Quote of the Week:
"Yes, baby, now available under the counter." – Michelle Visage
Random Notes from the Week:
I love that Ru is obsessed with Crystal Methyd's mullet because, girl, so am I.
We need to talk about Ru's dress. That green was beautiful. Stunning.
Thoughts on S12E5? Tell us in the comments.
Okay, byeeeeeeeeeeeeeeeeeeee.
Smoky Lynx