Brooklyn 99
5 New York Pretzels
What's up, gang? I'm a total introvert, like, half a step away from Grey Gardens level introvert. Damn, though, I'm missing my people. Luckily I have a wide array of imaginary friends that I can still safely kick it with. My go-to gang at the moment is the squad from Brooklyn 99. In case some of y'all don't know the detectives of the 99 are damn good at their jobs. They are also the silliest, smartest, sweetest group of cops you'll ever meet and I'm counting the crew from Law & Order in that. They won't shoot you, or assault you or anything.
They have the rockinest theme song you've heard in a long time. Once those horns kick in you can't help but do a chair dance. The 99 also does the greatest cold opens of all  time. Case in point.
That's right y'all. This is the show that made me realize that I like Andy Samberg. His character Jake isn't the star of the show though. You've got his rival, the super organized by-the-book Amy Santiago. Then there's Jake's best friend Charles who is a stone cold weirdo. Case in point.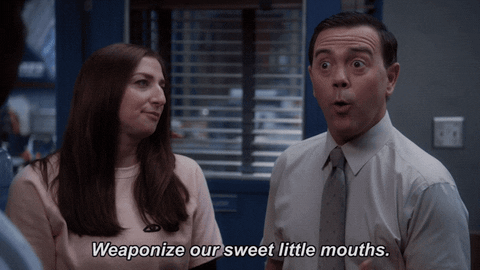 Disappointingly, but not surprisingly I have gotten Charles as my result on two separate Buzzfeed quizzes. Next to him is the amazing Gina Linetti. She's full of piss, vinegar, and sick burns. We have no choice but to stan. Next up is Detective Rosa Diaz. She's a leather clad badass with plenty of secrets and even more weapons. Rosa is so wonderful we have been forced to invent the previously unheard of double stan. Yup, she's that great. Next up is Terry. He's a mountain of a man with an intense love of yogurt and twins named Cagney and Lacey. Then there's Hitchcock and Scully. They are the human incarnation of Scooby and Shaggy. They have no interest at all in solving crime and spend all their time having snacks and naps. Captain Holt leads the crew. He's the city's first out, gay Captain and takes the job very seriously. He takes everything very seriously and it's hilarious.
This show has the best running jokes and characters in the business, Whether it's the yearly Halloween Heist or the continuing effort to finally nab the Pontiac Bandit you're gonna spend at least half of every episode giggling. Case in point.
Look, bottom line. The world is a scary place right now and we could all use a little comfort. What's more comforting than spending time laughing with good friends who also happen to be the good guys? Probably real human interaction but, hey, we have to work with what we've got. The first six seasons are streaming on Hulu so get into it friends and stay safe and sane out there. 99!