4 Pretzels.
Miss Vanjie. Miss Vanjie. Miss…Vanjie.
Guess who's back in the house? The star of seasons 10, 11, and dare I say it, 12. Miss Vanjie had a cameo; it was as hilarious as I expected it to be. Because Vanjie.
The Aftermath
Nicky Doll went home and, girl, we didn't even get to read her goodbye. Heidi wiped that shit off with a quickness. Our Doll is gone and we're moving on.
The Mini Challenge: NONE.
We don't have time for a mini challenge, y'all.
The Main Challenge: SNATCH GAME!!!
Y'all, Snatch Game is always a tricky episode. The queens seem to give legendary performances: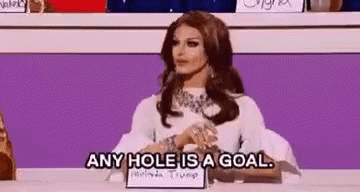 Or totally bomb it: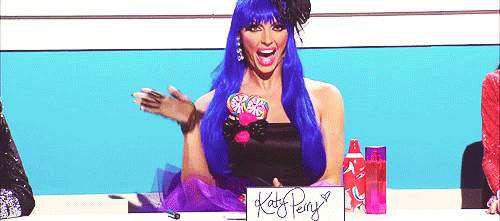 It's rarely ever just okay.
So, here's who I was worried about after the walkthrough:
Aiden – She has very little personality and then she chose someone, Patricia Quinn, who she seemingly knows nothing about. I'm with Michelle on this one. I would have done the Snatch Game as Magenta. Everyone – everyone who is watching a drag competition, anyway – has seen Rocky Horror and knows Magenta.
Brita – She has a lot of personality, but it's the same personality. Over and over and over. Her take on Jennifer Holliday had me worried. And rightfully so. No song references, no singing, just a lot of jaw action.
Crystal Methyd – I worry about her every week because I love her. She's just so presh and sweet. She went with Poppy, who I've never heard of. And, based on her performance, I don't think I care to know Poppy. Hopefully her runway will save her.
Ru was worried about Gigi because she chose to play a literal robot. I was not worried. Gigi does this hilarious thing with her mouth, so everything she does is hysterical. She can pull off robot.
Category is: Frozen, Bitch
In honor of the new Broadway musical, we're gettin' frozen. A lot of white, blue, and iridescent. Except for Widow. She went in an entirely different direction. More on that later.
The makeup for this challenge was all really pretty. A lot of blue eyeshadows and sparkles. I was feeling it.
My favorite looks:
Gigi Goode with that jumbo ice cream cone. She's a doll.
Crytsal Methyd with her slick backed hair and crazy pantsuit. I dug it.
Aiden's abominable snowman idea. Did it lack a little execution? Yes. Could she have done more to sell it than put a mouth around her neck and googly eyes on her head? Absolutely. But I applaud the idea.
My least favorite:
Honestly, and it pains me to say it, Widow's Titanic survivor was lackluster. I was not feeling it at all. Maybe if she'd come out on a door that clearly two people could fit on – especially '90s era Leo because he is not a big man – I'd have liked it more. I don't know. I wasn't feeling her shipwreck fantasy.
And the Winner Is: 
Gigi Goode. She deserved it. I predict, unless she just takes a dive bomb or gets kale poisoning or something, she will be the winner of this season.
The Bottom Two of the Week:
Aiden Zane and Brita. And, well, they earned it, y'all. They were tasked with lip syncing to Let it Go. Look, I watched Frozen, like, three years ago and just got that damn song out of my head. Now it's back. It's just going to live in my brain forever, I guess.
So, the lip sync wasn't high energy, but Brita brought a magic trick so she gets to stay another week. But, as the self-proclaimed Queen of New York, she needs to step it. Or, at the very least, stop reading everybody else and focus on her damn self.
Guest Judges: Jonathan Bennett and Daniel Franzese
These guys are dolls. The judges who are tasked with Snatch Game have a tough job. It's hard to watch people bomb, and they go into it knowing folks are going to bomb in front of them. It's tough, but these two handled it like champs.
Quote of the Week:
"I can't be your sugar mama, but I can maybe get you a Lunchable or something." – Vanessa Vanjie Mateo
Random Notes from the Week:
This is very weird, but here goes. Jan reminds me of Lola Bunny from Space Jam. I have no explanation for this at all, but it's the truth.
Also, something new this week, we didn't see Sherry Pie's runway. I think they've done additional editing on episodes she didn't win because she was barely in this one.
Thoughts on S12E6? Tell us in the comments.
Okay, byeeeeeeeeeeeeeeeeeeee.
Smoky Lynx