Lookie here, a few weeks ago, I started a new job that is 1000% centered around numbers. Now, I didn't go to school for math, so it's taking every last bit of my brain power. The result is, I'm not reading as much as I did when I was on full blown lock down.
I'm balancing three books right now, and I've completely lost track of what books I've reviewed and which ones I haven't. So, we're doing a High Fidelity style top five list, y'all.
The Princess Bride.
Everyone has seen the movie, right? Apparently not, which is: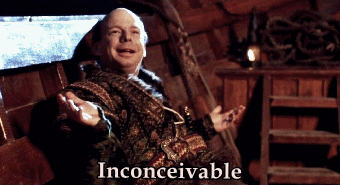 I read the book about – god – 20 years ago. How is that possible? Anyway, I read it and that William Goldberg is a clever bastard. You should for sure read this book. It is magical, clever, funny, and just straight up wonderful.
A Boy's Life.
A coming of age story for the ages. A Boy's Life is equal parts coming of age, mystery book, and magic. I read this one about fifteen years ago. It was given to me by a wonderful friend after the death of another friend. I was going through a tough time, and this book made it a little bit easier.
Catcher in the Rye. 
Look, I've already explained why I love this book and I shan't do it again. If you need a refresher, read this blog.
Harry Potter. 
I avoided HP like the Coronavirus until book four came out. An eight-year-old girl changed my mind. She was so stoked to get her hands on this epic tome, despite being surrounded by insane protesters. She caught my attention, and I started reading book one the following day. I've been a Potterhead ever since. #nevilleforlife
My Name is Trouble. 
Look, this is a super fun murder mystery book that came out last year. You guys, it is dope. A teen sleuth, a dead author, counterfeit wine, and a huge secret. This book is crazy good and there's another one coming out, hopefully, later this year!
And, because we are living in the end times, check out this bonus list featuring pandemic and post-apocolyptic reads:
The Stand. A classic by the King of horror.
The Hunger Games. Look, it's fun and I've already done a lot of research regarding which district I'm from. I have it narrowed down to Districts 7 or 11. I'm leaning toward 11.
Severance. Since the COVID outbreak, I've started thinking that the author might be psychic because this book is actually what is happening IRL. Crazy, y'all.
Warm Bodies. A zombie love story for the ages.
And, last but not least:
Battle Royale. Y'all. This book is Hunger Games for grown folks. A group of 8th graders are sent to duke it out on a remote island. They're each given a weapon; weapon is used loosely. Some kids get a machine gun, others get an iron skillet. I assume so they can cook their last meal. It's not fair at all, there's a thread of Bruce Springsteen running through it, and it has one of the dopest endings I've ever read.
So, that's it, y'all. Stay safe, stay healthy, and stay the hell away from me.
Okay, byeeeeeeeeeeeeeeeeeeeeeeeeeeee.
Smoky Lynx