The Lovebirds
4 Pretzels
The Lovebirds dropped on Netflix on Friday and I gotta say. It's pretty cute. Issa Ray and Kumail Nanjiani play a couple on their way to a dinner party that they really don't want to go to. The night gets even worse when they get carjacked by a guy who uses their SUV to absolutely smoosh a dude on a bicycle and then leaves them looking like the culprits. They can either go immediately to jail for a crime they didn't commit or use their very limited skills to catch the bad guy and clear their names.
Maybe it's my early obsession with  Adventures in Babysitting but I love a movie where some boring folks get sucked into a wild night of criminal shenanigans so I was stoked when I saw this trailer. Issa Ray and Kumail Nanjiani have awesome chemistry and are both hilarious and good looking which makes what would normally be a just ok movie really fun.
It's a joy to watch them stumble through the investigation. They get threatened with bacon grease by Anna Camp, which I suspect that some people would pay very good money for. Then they get some of the most conspicuous possible outfits to do undercover sluething in, rough up a frat boy, hit up a freaky Eyes Wide Shut Party, and even manage to swing by that damn dinner party all in the search of the murdering mustache man.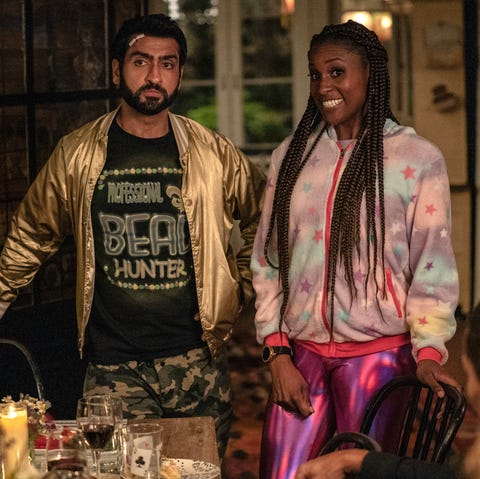 In a time when I can barely watch anything without absent mindedly scrolling through my phone this held my attention the whole time. It's filled with great one liners and some legit action heroing from both of our leads so I absolutely suggest checking out when you need some vicarious adventure. I would give it five stars but I kind of forgot everything that happened about an hour after the movie was over. It's not the movie's fault though, Adventures in Babysitting sets the bar pretty dang high.
If only The Lovebirds had a scene where they were forced to sing an impromptu blues number. I would have been all in.