3 Pretzels
Lynx and LeRouxnatics, it has been a minute. Look, honestly, this year has been…uninspiring. It's hard to read, it's even harder to write, and, if we aren't doing those things, what the hell are we supposed to review? I've been reading some. I've been writing none. So,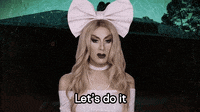 The Great Alone, Kristin Hannah.
A Synopsis. In brief.
It's the 1970s. Patty Hearst has been abducted. In Washington state, College age women are disappearing. Ernt (Yep. That's a name.) has just returned from Vietnam. He lives in Seattle with his wife and daughter, Cora and Leni respectively. Ernt, like a lot of POWs, has some issues. He struggles to hold down and job and his growing more and more paranoid. So he moves his family to Alaska! Because that makes just a ton of sense! They go to the great alone totally unprepared. I mean, Cora is wearing purple hot pants and they're driving a VW bus. But a war buddy left them a homestead, so they're all set. Right? Girl, no. The "homestead" is essentially a shack, Ernt is reluctant to accept help, Cora's strengths are flirting with men to piss Ernt off, gluing fake eyelashes on, and smoking – she's a woman after my own heart – Cora rollin' up on Alaska like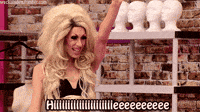 And then there's Leni, who is a sweet baby child. Thankfully, Large Marge is a total boss. She and the other women in town really come together to help the Allbrights. And, despite Ernt being a total ass, they make it. They learn to live in the great alone. Until winter when there is literally no daylight. Ernt's paranoia grows. He becomes obsessed with bug out bags, protection, moonshine, and punching Cora in the face. Things…take a bad turn for the Allbrights. It gets a little Alldark up in here.
Okay, so, what did I think about this book? I liked it. It's a great story, particularly the first 2/3 of it. It had some pacing issues, but kept me intrigued. The last 1/3, however, was bonkers. A lot happens at a breakneck pace. The reader is bombarded with plot points and given no time to react before Hannah hit us with another one.
Slow down, girl.
Here's why I docked the stars. Adverbs. So many adverbs. And DUMB ones! Like woodenly. What..the…actual…
But I can look past the adverbs. Can I, though? Probably not. But let's pretend I can. I was totally fine, riding the avalanche of drama, when this sentence happened:
"No. Not a bridge, a ramp. A wheelchair ramp. Mr. Walker walked up the ramp-like bridge."
Girl, is it a ramp or a bridge? You just spent time telling us it's a ramp and then turn around and call it a damn bridge. Look, that's not Hannah's fault, that's the editor. They should have caught that.
So, overall, I liked the book. It did absolutely solidify in my mind that, while I do enjoy the cold – my makeup doesn't sweat off and I can make the most of my vintage fur collection – I am not made for Alaska. Like, I'll look at pictures of it, but that's where it ends.
Should you read this book despite the few issues?