Drag Race is back, back, back again and we are here for it.
Like most things, Drag Race has a new look. New werk room, slightly new phrasing, and new rules. This premiere served looks, plexiglass barriers, and six lip syncs. Yep. Six lip syncs. The queens were paired up and immediately made to lip sync against the other one. The winner won, duh; the loser got the Pork Chop. Hold up!?!? Six eliminations? No, girl. The Pork Chops of week have been asked to take a seat in the Pork Chop lounge and chill. Well, not chill. There was much speculation about what the hell was happening.
Oh, and of course Mama Ru comes in clutch with a twist at the end. But more on that later.
I have a prediction. The queens have been divided into teams so they are limiting their exposure and keeping groups small. The bottom queens from each team will lip sync. I'm cool with it; whatever it takes to keep the queens and crew safe. < You guys, that's what not being a selfish dickhole looks like. It's not that hard.
But, anyway, let's meet the queens, shall we?
Kandy Muse – formerly of the House of Aja. If I had to describe her in one word, it would be loud. But not in a Silky Ganache way, thank the gods.
Joey Jay – filler queen. Her words, not mine.
Denali – the self-proclaimed ice queen. Girl, she came in on ice skates, so I guess she gets to keep that title. She lip synced in them, even. I'm super glad we didn't have a Winter situation. If you don't know what that means, read our damn books. There's a rad ice skate killing that is equal parts gross and hilarious.
LaLa Ri – Olive Garden pasta with Popeye's chicken. I'm not even going to pretend to know what that means, but I do know I love it. Between T Swift and LaLa, Olive Garden is gettin' some love, y'all.
Symone – she's originally from my home state and wore a dress made of Polaroids of herself, so she is one of my favorites. She also had this funny gag about how she and Ru might be related.
Tamisha Iman – straight up adorable and can pull off a power shoulder.
Gottmik – campy, spooky, fashion, transgender. Gottmik is DR's first transgender male contestant. And he is adorable. I also believe Gottmik may be the reason for the slight change from "May the best woman win" to "May the best drag queen win". Since reading that Gottmik was cast, I've been thinking about how exactly to refer to Gottmik. Since Gottmik is a transgender man, I want to respect that and use he/him. But drag queens are often referred to as she/her. So, I'm going with Gottmik until Gottmik specifies. < Again, this is what not being a dickhole looks like.
Utica Queen – okay, I LOVE this gal. She had a massive strawberry on her head and, when asked about it, she shared her story of overcoming a strawberry allergy. This immediately following the judges and audience learning that Tamisha is a stage 3 colon cancer survivor. But Utica didn't know that, and she is precious.
Rose` – pinky princess. She was so cute. Her wig was ON POINT.
Olivia Lux – nice diva with possibly the most beautiful smile in the universe.
Tina Burner – okay. So, initially she reminded me of Nina West. And then she spoke. I'm not a fan. I think it's because she relies on being gross, and that is not my jam.
Kahmora Hall – of the House of Hall. And with those clavicles, it's not hard to see why. She is stunning and casually brought up Valley of the Dolls while wearing a real Bob Mackey that she had refitted because she's a sample size. She humble bragged with the best of them. I like her.
Elliott with 2 Ts – Okay, so I loved her entrance look. Her two fellow queens were reading her for it, and then Ru was like, "Girl, I love your look." So, take that Tina Burner! Elliott seems super fun and cute.
Kandy
LaLa Ri
Symone
Gottmik
Olivia Lux
Tina Burner
Pork Chops:
Everyone else. I'm not retyping all that.
Team Pork Chop is NOT sashaying away. Well, not all of them. The PC group has been told they must eliminate one of their own.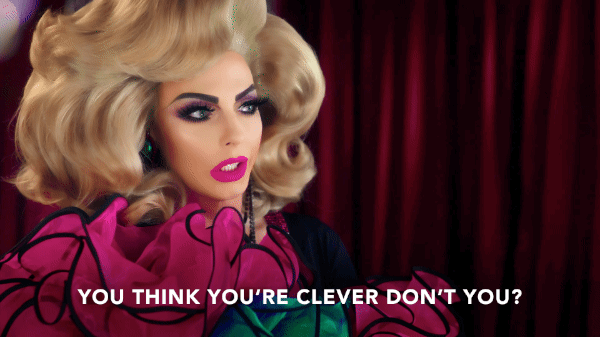 It's some All Stars style rules, but different in that the AS casts all know one another. These gals literally just met. So, it seems a little unfair to me. I would have cast an even number of queens and let them all go on to week two. Because, as we've established, I'm not a dick.
Aside from the AS-style elimination, I liked the episode. The only thing I missed was the squealing when the queen comes in and see other queens they know. I love that part of the premiere. I also secretly love it when they see a queen they don't like. I don't like drama and shade in my own life, but I enjoy the hell out of other people's beefs.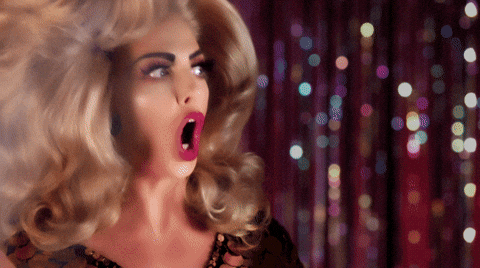 I've had a drag queen shaped hole in my heart since All Stars 5. I'm glad Ru and crew are back.
Okay, byeeeeeeeeeeeeeeeee.
Smoky