3 Slightly Stale – like maybe they've been out overnight, but you're kind of hungover so you eat them anyway – Pretzels
S12E5 was a drag…and not in a good way. It wasn't the queens' fault; it was the challenges themselves.
The Mini Challenge: Design a dress out of the DOPEST wallpaper on the planet and model it in front of a wall of said wallpaper.
For this challenge, the queens got to choose their own partner. Gottmik, last week's winner, chose her team, going from a couple to a thruple. She, naturally, chose Tina and Kandy. G has fabulous taste in everything but friends. Okay, so, anyway. The gals made dresses out of paper and modeled them. Tamisha and Elliott went with a Tiger King theme and won the day. These same groups were paired up for the most boring disco documentary of all time.
The Main Challenge: Disco, but make it boring.
It was basically like if Time Life did a hits of the '70s infomercial, but with drag queens. It was…dull. Our queens did a fine job, nothing against them at all, it was just a bad assignment.
I will say, Mama Ru tried. She came in with some Charles Nelson Reilly jokes that bombed because NONE of our queens had heard of Charles Nelson Reilly. They were also pressed like a panini to pick a favorite disco song.
This is mine.
Try having a bad time while listening to Thelma Houston. I double dog dare you. You can't because it's impossible.
So, like I said, our queens did fine. Particularly Olivia Lux, Denali, Rose`, and Elliott. They are legit dancing queens. The best part of the episode was when we learned that Denali ice skated on a cruise ship. That bitch is crazy. It could just be my totally justified fear of death by ice skate, but I'm not doing that. I also don't sports at all, so ice skating is for sure out. Didn't know you can die via ice skate? Check out Winter: An Ermahgerd Merstery. RIP Janet. Enough about that. On to the runway.
Category is: Little Black Dress
Really? It's a drag show, and we're busting out the LBD? Okay.
I don't have a lot to say about the LBD. Gottmik's was the teensiest, more of a merkin, really. LaLa's wasn't much bigger. Tina added red, yellow, and orange to her dress because of course she did. She is married to that color scheme, and I applaud her commitment even if I hate the colors themselves.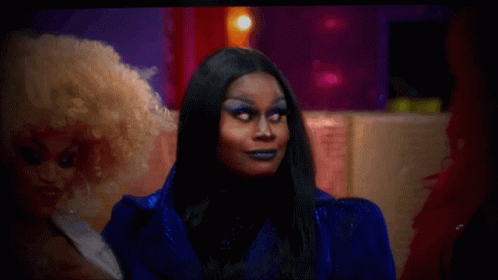 Some of them, Denali, Kandy, and Symone, who had concepts, others just showed up in little black dresses. The runway was so underwhelming that the judges didn't even have snarky commentary. The only thing that happened was Loni Love saying, "I liked Elliott's dress. It was Sex & the City." To which Michelle replied, "If the city was Albuquerque." So, while Olivia was given the $5,000 tip, Michelle won the episode with that joke. LaLa is runner up with her comment about an Atlanta shrimp bar. You know what we need? Nay, deserve. A Symone and LaLa talk show. I thought a podcast might work, but I need to see them, too. So, it has to be a talk show. I don't even care if they have guests. I'm praying this becomes a real thing.
Tamisha and Kandy, who have been at odds since the season started were our bottom two. Kandy won. Tamisha gathered up her beautiful, handsewn garments, her brass knuckles, and hit the door.
I love Tamisha, and I'm sad to see her go. She is a delight. She's blunt AF, but also a delight. Her story of survival, dealing with unseen obstacles, and being a mother to many a drag babies, as well as fathering three babies, is a good one. This isn't the last we've seen of Tamisha Iman.
Okay, so, that's all I have. This episode was underwhelming, but next week we get Bossy Rossy After Dark. It should be equal parts entertaining and train wreck. I can't wait.
Okay, byyyyyyyyyeeeeeeeeeeeeeeeeeeee.
Smoky Lynx