Drag Race Season 13, Episode 6: A Review
3 Pretzels
Actually, no. I'm docking half a pretzels for that abysmal mini challenge. But, okay, let's get into it, shall we?
Mini Challenge: The library is open…
Because reading is what? FUNDAMENTAL.
I look forward to the reading challenge every season. It's a chance for the queens to blow off some steam and be good-natured assholes to one another. You guys, this was the WORST reading challenge in Drag Race herstory. Pathetic, truly. Thank the gods Ru looked amazing in his all black ensemble so we at least had something nice to look at.
Just sittin' here, waiting for the shade.
Gottmik won but wasn't funny enough to actually talk about, so let's move on.
The Main Challenge: Bossy Rossy After Dark
We're bringing back the Ross Matthews talk show challenge, and I am here for it. Improv challenges make me nervous as hell, but Ross is always fun so it makes it more tolerable.
Our skits/groups were are follows:
My Imaginary Boyfriend Got Me Pregnant: Denali, Rose`, LaLa Ri.
They did an okay job but, as will all improv, they fell into the "I'll just scream louder than my partners while also doing my best hillbilly accent" trap. The fake southern accents are a real problem for me. Anyway, Rose` was fine, Denali was fine, LaLa struggled a bit.
I Escaped a Mime Cult: Gottmik, Olivia, Utica
Gottmik was great, Olivia killed it while not saying a word, and Utica was weird, but maybe not in a good way.
Basically, I'm Paris Hilton: (not the actual name, but I don't remember) Kandy and Symone.
These two were perfect.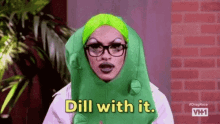 Truly. Kandy didn't act like herself and was a delight. Symone was perfection from the moment she climbed the fence until she left.
And they did it all without screaming. Not one scream the entire time.
I Have a 600 Pound Ass: Tina Burner and Elliott.
Too terrible to even mention.
The Runway: Bead It!
I'm not going to go through all the looks, but I will say I disagree with the judges. Symone should have won. She did equally as well in the challenge and her runway was amazing.
Elliott and LaLa were in the bottom and, unfortunately, LaLa was sent home. I wish the judges could see workroom Lala, because she is hilarious and wonderful. She brought joy to the workroom, and I will miss her.
Oh, the best thing about this week is, I pinned down why I simply cannot with Tina Burner. Elliott is struggling. She confided in Tina, telling her she suffers from clinical depression and is having a moment. Tina confides in Elliott that her mother struggled with depression, so she has seen firsthand what it can do to someone. And I thought we were having a moment. I saw Tina as a caring person who is maybe going to be a good friend to Elliott. I 180ed on Tina. Then she said, essentially, "People who have depression are a real bummer to deal with."
I 180ed again, putting me right back where I started. Because math. So, yeah, jury has been dismissed, my decision has been made. I don't care for her. This isn't the first time she put her two cents in where it wasn't exactly asked for, so it's a running theme for her. I'm done.
While this week was better than last, it still wasn't great. I think Season 12 preemptively ruined it. It's not the queens' fault. Season 12 was just packed with talent, hilarity, killer looks, and grace. It's going to be hard to top.
Okay, byyyyyyyyyyyyyyyyyyeeeeeeeeeeeeeeeeeeeeee,
Smoky Lynx