I'm sorry, Mama, but facts are facts. I know it's been a week since I watched the episode, but I am pressed to remember a single detail about the rusical itself. It was social media themed, and that's about all I know.
Here's what I do know, I would like to get through just one episode without Tina Burner doing a John Irving style tittie flip. She reminds me of a little kid when they put big ole balloons in their shirt and then plays with their new found boobies. Except Tina Burner is at least 35. At least. Two weeks ago it was bead titties, last week it was literal headlight titties. She can't get enough of them. I, however, have had my fill.
Okay, to the actual review.
Mini Challenge: Y'all, I don't have a clue. Not one. I'd have to rewatch, and I'm just not in to this season enough to do that.
Main Challenge: Social Media Rusical.
Everyone is cast as a different social media platform. The best part about it was Utica standing up for herself and insisting on the part she wanted. And then she KILLED it. Murdered it dead. All while being a sweet, sweet angel baby. I love Utica, and would really like her to wrap me in what I imagine would be a wonderful hug. She seems like a great hugger. I also love her ability to seamlessly (literally) wear two halves of two different shirts sewn together…seamlessly. It's a real talent.
Bring it to the Runway: Category is Yellow
When I first hear yellow, my first thought was Symone. And then cartoon hearts exploded over my head. Symone was made for this runway. She looked stunning in yellow. Absolutely stunning. As a white woman, I can say this. Yellow is tricky for those of us with paler skin. I, for example, only wear yellow when I want to be sent home sick from work. It does something truly terrible next to my skin. Symone, though. guuuuuuuuuuurrrrrrl. She came out in a Versace Big Bird situation and kilt it. All the girls looked lovely, either using their skin tone to enhance the color or, in Gottmik's case, not allowing any of her skin to actually show. Which was smart. She's one who would clash with yellow. I honestly don't even remember who won, but was thrilled with the Symone/Kandy double save.
You guys, I have to say, I'm a little disappointed in the challenges this season. What's next?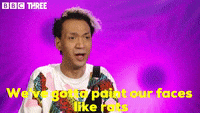 Then, to top it all off, we didn't get a real episode this week. We got a Covid related documentary episode. Look, I'm very glad all the queens got to film the season and that they felt safe doing so. What I wasn't really ready for was a look back and, what is decidedly, the worst year ever. Here I am, still unable to smell anything save for the phantom cigarettes that seem to be with me constantly, wanting to be entertained, and I get a Covid documentary. I almost didn't watch, but I'm glad I did. It was nice to see how they managed to film safely and hear the queen's perspectives.
I missed the blog last week because I was cooking up a veganized southern style Sunday supper for my book club. Chicken fried tofu, vegan mac and cheese, grits, and greens. It was so, so good. And good for the soul. Hence the name soul food. Duh. So, next week we're back to normal Drag Race. It's the Snatch Game, so it will be equal parts good and cringey.
Okay, byeeeeeeeeeeeeeeeeeeeeee.
Smoky