NOPE! She's finally gone.
Drag Race Season 13, Episode…whatever. I forget what week we're on.
So, my wish finally came true. Tina Burner was sent packin'. And I couldn't be happier.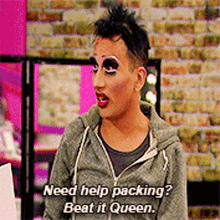 But this is a review blog, not a '90s style slam notebook. Let's get to it, shall we?
The Mini Challenge: Are you smarter than the Pit Crew?
Quick side bar. I love the Pit Crew, but it also makes me ashamed/uncomfortable when the queens drool over them and paw at them. Like, Bryce is a cutie pie. I bet he's also hella cute in pants. I don't know because I've only seen him in his sponsor undies. So, this season has been kind of a relief in that the Pit Crew is being used sparingly and are keeping their distance. So, it was a delight to see them, but then we're just going to make fun of how dumb they are?
Back to the challenge. We played a little drag trivia and Kandy Muse was our winner. Surprising probably everyone.
The Main Challenge: Create a soda and sell it
I just have one question for you. Is your blood sugar low?
Symone kilt it, to no one's surprise. But let's review all of them.
Utica: Gurrrrrrrl. I love her, but her commercial was…off putting. There was just way too much tongue involved for me to like it. Oh, You Don't Like Tongues. I'm Sorry. < Title of LeRoux's sex tape. Anyway, I was intrigued by the cow; she lost me with the suckling.
Kandy: She basically just wore a leopard print cat suit, danced, and said Kandy-esque things. It worked.
Tina Burner: She did a weird Viagra in a can thing. But she mostly screamed "Hellllllll yeahhhhhh" Randy Savage-style at an unsuspecting Bryce. She also had a tone deaf segment where she pretended to have sex with a priest. It was bad.
Gottmik: She pretty much just did Paris Hilton again this week. It was weird and awkward.
Olivia: Her concept was okay; she just didn't super pull it off. Her soda was supposed to make you happy, but Olivia is always happy. The transition from happy to sad was underwhelming.
Rose: Her soda was all about perfection, and she was, well, perfect. She also turned some of her previous runway criticisms into perks of her soda, and she did it all while wearing a Jan robe.
Symone: Genius. She's a genius. Sweet Toof was genius. All of it.
She and Rose took home the double win while Utica sent Tina Burner to the house.
The Runway: Category is: Beast
Symone was a fox, Rose was a satyr, Kandy was…an alien? The runway was, overall, great. Just no one knows why Kandy went that route. I do like to imagine her in the room with all the other queens getting ready. Symone looked like an actual fox; Utica was a vision in black and fur; Olivia was full-on Monsters Inc. And Kandy was in a lime green cat suit complete with merkin with a blowup alien on her back. I was confused, but I applaud her confidence.
But the good news is, Tina fell flat, and we're left with a six-pack of queens.
Okay, byyyyyyyyeeeeeeeeeeee.
Smoky Lynx