Drag Race S13, E14
Our top four is back and are tasked with helping Mama Ru make her new music video. Our gals had to write their own verse, lay down their track, and learn choreography from the great Jamal Sims.
I'd like to take a moment to fangirl over Jamal. First of all, he's presh. He has really great energy. Jamal seems to really want all our ladies succeed. And he has what appears to be a French Bulldog tattooed on his chest. So, you know, he's basically perfect. And we aren't the only ones who think so. Gottmik lost her damn mind when she found out they'd be working with him again.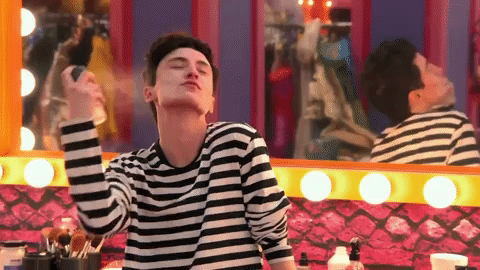 So, all of our ladies did pretty well and, honestly, normally I get a little embarrassed when the queens have to do a Ru video. I don't know why, but I do. This one, though, was hella cute. All our queens were dressed in their nighttime clothes and looked hella cute.
Gottmik was gorg in blue, Kandy killed it in yellow, Rose' was sparkling in pink, and Symone was a damn dreamsicle in orange. They looked stellar. Every one of them.
The runway category was drag excellence.
Gottmik served spotted, Cruella DeVille realness. And, while it was not my favorite look of hers, she looked good.
Kandy looked like a futuristic flight attendant, and I did not care for it. I will say, though, her face and hair were the best they'd ever looked.
Rose' put her Scottish heritage on display with a full tartan gown and long red hair. She looked great.
Symone who has literally never looked bad, of course looked stunning.
As predicted, by me, anyway, no one went home. While this is not the top four I predicted, I honestly didn't expect Kandy to still be in the race, they all did really, really well. This episode was highlight in what has been a lackluster season. I was feeling really good about the whole thing when Mama mentioned the reunion next week, and my good mood was squandered.
Cheese and crackers, we have to see Tina Burner again. And I just have nothin' nice to say about that…
Okay, byyyyeeeeeeeeeeeeee.
Smoky Lynx