3 Slightly Stale – like maybe they've been out overnight, but you're kind of hungover so you eat them anyway – Pretzels
S12E5 was a drag…and not in a good way. It wasn't the queens' fault; it was the challenges themselves.
The Mini Challenge: Design a dress out of the DOPEST wallpaper on the planet and model it in front of a wall of said wallpaper.
For this challenge, the queens got to choose their own partner. Gottmik, last week's winner, chose her team, going from a couple to a thruple. She, naturally, chose Tina and Kandy. G has fabulous taste in everything but friends. Okay, so, anyway. The gals made dresses out of paper and modeled them. Tamisha and Elliott went with a Tiger King theme and won the day. These same groups were paired up for the most boring disco documentary of all time.
The Main Challenge: Disco, but make it boring.
It was basically like if Time Life did a hits of the '70s infomercial, but with drag queens. It was…dull. Our queens did a fine job, nothing against them at all, it was just a bad assignment.
I will say, Mama Ru tried. She came in with some Charles Nelson Reilly jokes that bombed because NONE of our queens had heard of Charles Nelson Reilly. They were also pressed like a panini to pick a favorite disco song.
This is mine.
Try having a bad time while listening to Thelma Houston. I double dog dare you. You can't because it's impossible.
So, like I said, our queens did fine. Particularly Olivia Lux, Denali, Rose`, and Elliott. They are legit dancing queens. The best part of the episode was when we learned that Denali ice skated on a cruise ship. That bitch is crazy. It could just be my totally justified fear of death by ice skate, but I'm not doing that. I also don't sports at all, so ice skating is for sure out. Didn't know you can die via ice skate? Check out Winter: An Ermahgerd Merstery. RIP Janet. Enough about that. On to the runway.
Category is: Little Black Dress
Really? It's a drag show, and we're busting out the LBD? Okay.
I don't have a lot to say about the LBD. Gottmik's was the teensiest, more of a merkin, really. LaLa's wasn't much bigger. Tina added red, yellow, and orange to her dress because of course she did. She is married to that color scheme, and I applaud her commitment even if I hate the colors themselves.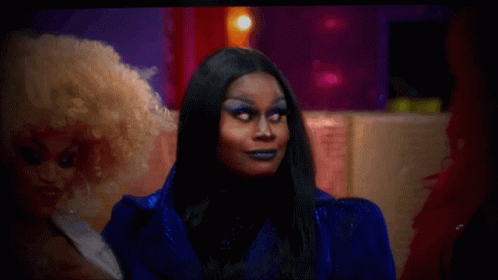 Some of them, Denali, Kandy, and Symone, who had concepts, others just showed up in little black dresses. The runway was so underwhelming that the judges didn't even have snarky commentary. The only thing that happened was Loni Love saying, "I liked Elliott's dress. It was Sex & the City." To which Michelle replied, "If the city was Albuquerque." So, while Olivia was given the $5,000 tip, Michelle won the episode with that joke. LaLa is runner up with her comment about an Atlanta shrimp bar. You know what we need? Nay, deserve. A Symone and LaLa talk show. I thought a podcast might work, but I need to see them, too. So, it has to be a talk show. I don't even care if they have guests. I'm praying this becomes a real thing.
Tamisha and Kandy, who have been at odds since the season started were our bottom two. Kandy won. Tamisha gathered up her beautiful, handsewn garments, her brass knuckles, and hit the door.
I love Tamisha, and I'm sad to see her go. She is a delight. She's blunt AF, but also a delight. Her story of survival, dealing with unseen obstacles, and being a mother to many a drag babies, as well as fathering three babies, is a good one. This isn't the last we've seen of Tamisha Iman.
Okay, so, that's all I have. This episode was underwhelming, but next week we get Bossy Rossy After Dark. It should be equal parts entertaining and train wreck. I can't wait.
Okay, byyyyyyyyyeeeeeeeeeeeeeeeeeeee.
Smoky Lynx
If you follow both the blog and the Drag Race schedule, then you are well aware your girl is behind on the review blogs. Here's the thing, Covid left me with the memory of that guy from Memento and the sleeping habits of an elderly house cat. Seriously. One day, I forgot I was peeling an orange WHILE I was peeling an orange. Then, when I remembered, I got so tired thinking about finishing that I took a three hour nap about it. While I do understand that I am incredibly lucky, I do also know first hand that even a mild case of this bitch is terrible. I'm still not back to normal, I'd say I'm about 75%, so well enough to get back to blogging.
Lookie here, I'm not going to do four weeks of recaps. It's too much. So, we're just hitting highlights.
Joey Jay needs a new catchphrase. "I'm a gay ass bitch" isn't going to cut it. Facts are facts, America. < Now that's a catchphrase.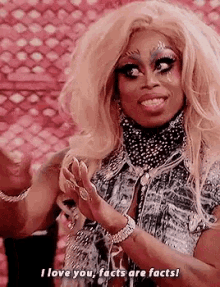 Has Michelle's hair ever been better? No, America, it has not. That silver streak is every damn thing.
I totally misjudged Rose` , and I regret that. She seems a delight. For some reason, I pegged her as an asshole.
Tina Burner is on my nerves for reasons I cannot explain.
Denali can squat dance with the best of them.
Utica is a dream. Maybe I'm just tired, but I would live in that sleeping bag couture.
Gottmik? More like Gotthellatalent.
Kahmora Hall is stunning. Unfortunately, she was the first one sent packing. I hope she does that thing some queens do where they post what they would have worn that week on Instagram. Her performance as a tree was wooden, but I could watch her wear clothes all day.
Tamisha probably has a shiv in her bag and will not hesitate to use it.
Kandy Muse – has no idea what musing means and has some fitting issues. The Smoky jury is still out on this one.
Olivia is not one to be trifled with, and she's stunning. I hope we get to see more of her music and singing talents.
So, that's where I stand with all the queens. I have extensive notes on each episode, but I can't actually read my own handwriting, so we're going from memory. And, as I pointed out, my normally elephant-like memory is currently hot garbage, so we're rolling with what we have.
That's a wrap, squirrel friends. I hope to be back next week with a legit and slightly more cohesive recap.
Lynx out.
Look, as a whole, 2020 was a blazing dumpster fire. But I did get in some awesome reads, so there's that. I read a whopping 89 books this year. Let's take a look at some of my favorites.
Turn the Page Berk Clerb
My book club makes dope decisions and 2020 was no exception.
Middlesex
Before We Were Yours
Life of Pi
The Water Method Man
Tuesday Mooney Talks to Ghosts
Nothing to See Here
A Separate Peace
Then She Was Gone
Trouble Always Finds Me
Middlesex has been on my list for a minute; Life of Pi is in my top five favorite books list; Tuesday Mooney Talks to Ghosts is a mystery full of Edgar Allan Poe nods, drag Madonna, and a bevy of clues; Nothing to See Here is the funniest book you'll read about combustible children; Then She Was Gone is bananas; and Trouble Valentine is back with a scarier mystery.
Quarantine Reads
While I spent a fair share of my quarantine time day drinking and playing Mario Kart, I did manage to read some dope books.
What in God's Name?
Midnight at the Bright Ideas Book Store
The Family Fang
The Family Upstairs
Fleishman is in Trouble
Fleishman wasn't all that memorable; Midnight is a murder mystery full of bookish clues; The Family Fang and The Family Upstairs will both make you grateful for your own family. Unless you like living with maniacs or, better yet, maniac cult members. Maybe that's your jam? I don't know.
Summer of Stevie
To me, Stephen King is meant to be read in the summer. Most of his books are set during the summer months and, perhaps more importantly, at night he's too scary and there's less night during the summer. Oh, I still literally jumped in and out of bed to avoid having my ankle grabbed by the dead woman I believe lives in the deep, dark void under my bed, but it would have been worse in the winter. I just know it.
The Dark Half
Four Past Midnight
Doctor Sleep
'Salem's Lot
The Institute
Bill Hodges Trilogy
Dolores Claiborne
Dark Tower
If it Bleeds
Bag of Bones
Elevation
First of all, I'd like to take a moment to freak the hell out. I can't believe it was only 2020 when I read The Dark Half. It feels like a lifetime ago.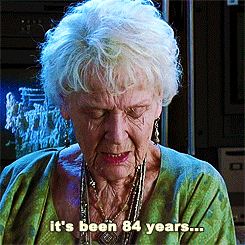 I wrote a pretty decent review of The Dark Half. You may read it here.
It is shockingly Arnold Schwarzenegger themed.
My favorites were The Dark Half, Dolores Claiborne, and The Bill Hodges Trilogy. If you want a quick, sweet read, check out Elevation.
Old Reads Renewed
I hit a slump this year. I missed my friends, still do because I'm still distancing, so I revisited some old ones. Mostly David Sedaris.
Best of Me
When You Are Engulfed in Flames
Holidays on Ice
Of all the old friends I revisited, Barack Obama was the best. A Promised Land was a comfort to me amid all the election drama. I needed to hear from President Obama that we're going to be okay, and he delivered.
Other Reads
I blew through the Dennis LeHane series, discovered Lisa Scottoline, discovered and hope to soon forget Blake Pierce, finally read a Kristin Hannah, and ended the year with a Wally Lamb that was not at all traumatizing.
So, while it was a year of devastating wild fires, a global health pandemic, and a tumultuous election that STILL doesn't appear to be over, we also had a sex worker raise millions for wild fire relief, rooftop dates, new ways of interacting with friends and family, and a new president. I'd prefer to focus on that.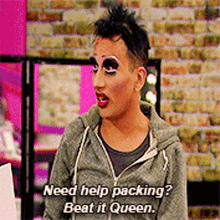 As far as the current President goes…
Okay, byeeeeeeeeeeeeeeeeeeee,
Smoky
Drag Race is back, back, back again and we are here for it.
Like most things, Drag Race has a new look. New werk room, slightly new phrasing, and new rules. This premiere served looks, plexiglass barriers, and six lip syncs. Yep. Six lip syncs. The queens were paired up and immediately made to lip sync against the other one. The winner won, duh; the loser got the Pork Chop. Hold up!?!? Six eliminations? No, girl. The Pork Chops of week have been asked to take a seat in the Pork Chop lounge and chill. Well, not chill. There was much speculation about what the hell was happening.
Oh, and of course Mama Ru comes in clutch with a twist at the end. But more on that later.
I have a prediction. The queens have been divided into teams so they are limiting their exposure and keeping groups small. The bottom queens from each team will lip sync. I'm cool with it; whatever it takes to keep the queens and crew safe. < You guys, that's what not being a selfish dickhole looks like. It's not that hard.
But, anyway, let's meet the queens, shall we?
Kandy Muse – formerly of the House of Aja. If I had to describe her in one word, it would be loud. But not in a Silky Ganache way, thank the gods.
Joey Jay – filler queen. Her words, not mine.
Denali – the self-proclaimed ice queen. Girl, she came in on ice skates, so I guess she gets to keep that title. She lip synced in them, even. I'm super glad we didn't have a Winter situation. If you don't know what that means, read our damn books. There's a rad ice skate killing that is equal parts gross and hilarious.
LaLa Ri – Olive Garden pasta with Popeye's chicken. I'm not even going to pretend to know what that means, but I do know I love it. Between T Swift and LaLa, Olive Garden is gettin' some love, y'all.
Symone – she's originally from my home state and wore a dress made of Polaroids of herself, so she is one of my favorites. She also had this funny gag about how she and Ru might be related.
Tamisha Iman – straight up adorable and can pull off a power shoulder.
Gottmik – campy, spooky, fashion, transgender. Gottmik is DR's first transgender male contestant. And he is adorable. I also believe Gottmik may be the reason for the slight change from "May the best woman win" to "May the best drag queen win". Since reading that Gottmik was cast, I've been thinking about how exactly to refer to Gottmik. Since Gottmik is a transgender man, I want to respect that and use he/him. But drag queens are often referred to as she/her. So, I'm going with Gottmik until Gottmik specifies. < Again, this is what not being a dickhole looks like.
Utica Queen – okay, I LOVE this gal. She had a massive strawberry on her head and, when asked about it, she shared her story of overcoming a strawberry allergy. This immediately following the judges and audience learning that Tamisha is a stage 3 colon cancer survivor. But Utica didn't know that, and she is precious.
Rose` – pinky princess. She was so cute. Her wig was ON POINT.
Olivia Lux – nice diva with possibly the most beautiful smile in the universe.
Tina Burner – okay. So, initially she reminded me of Nina West. And then she spoke. I'm not a fan. I think it's because she relies on being gross, and that is not my jam.
Kahmora Hall – of the House of Hall. And with those clavicles, it's not hard to see why. She is stunning and casually brought up Valley of the Dolls while wearing a real Bob Mackey that she had refitted because she's a sample size. She humble bragged with the best of them. I like her.
Elliott with 2 Ts – Okay, so I loved her entrance look. Her two fellow queens were reading her for it, and then Ru was like, "Girl, I love your look." So, take that Tina Burner! Elliott seems super fun and cute.
Kandy
LaLa Ri
Symone
Gottmik
Olivia Lux
Tina Burner
Pork Chops:
Everyone else. I'm not retyping all that.
Team Pork Chop is NOT sashaying away. Well, not all of them. The PC group has been told they must eliminate one of their own.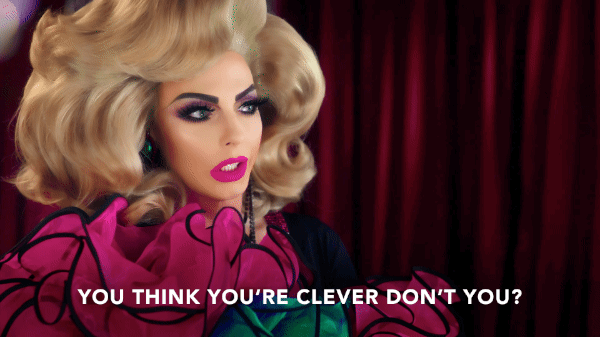 It's some All Stars style rules, but different in that the AS casts all know one another. These gals literally just met. So, it seems a little unfair to me. I would have cast an even number of queens and let them all go on to week two. Because, as we've established, I'm not a dick.
Aside from the AS-style elimination, I liked the episode. The only thing I missed was the squealing when the queen comes in and see other queens they know. I love that part of the premiere. I also secretly love it when they see a queen they don't like. I don't like drama and shade in my own life, but I enjoy the hell out of other people's beefs.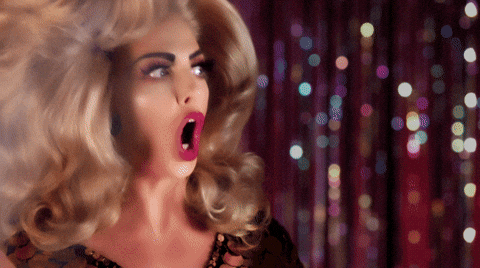 I've had a drag queen shaped hole in my heart since All Stars 5. I'm glad Ru and crew are back.
Okay, byeeeeeeeeeeeeeeeee.
Smoky
0 Pretzels. After the testicle song, I kinda lost my appetite.
That's right. We're ringing in the new year with a testicle song. I'd feel bad that the guy only had one, but he's a Nazi, so does anyone even care?
No. No one cares about Nazi balls.
Look, when I realized we were actually going to watch this movie, I knew it wasn't going to be as good as the book, which I ended up quite liking. I mean, the whole underlying theme is that Phinny and Gene are in love, but some deeply felt sense of inadequacy and internalized homophobia caused Gene to lash out just once, just one damn time, and it ultimately ends up destroying the very thing he loves; and it's all set against the backdrop of a bunch of kids preparing to go to war.
That's good shit. That's a pretty rich story, you know? So I felt like the movie would be cheesy and probably a bit overwrought in a very specifically '70s kind of way. Damn though, I had no idea how absolutely awful it would be until the movie began.
When we had to listen to "Old Gene " go on and on in voiceover while walking around the campus for approximately two hours, I knew it was bad. The narration finally, mercifully, came to an end while the camera focused on the back of "Old Gene's" head while he stared forlornly up at a woefully miscast tree, and that's when I knew we were in for an absolutely crap film. You know why? Because "Old Gene" was clearly wearing a terrible wig. It looked like the corpse of Norman Bates mother wearing a preppy overcoat, to be honest, and we end on that same damn close up. Is it a subtle acknowledgement of the horror we're about to witness? Methinks the answer is yes.
If I'm being real with you guys the actual details of what happened in this movie are fleeing my brain faster than I fled the garage to get a drink the night we watched this movie. So, I'm just gonna list the main points that I remember for posterity and what not.
Nobody in this movie can act. Or, maybe they can and just chose not to for some reason? I don't know what their deal is, but I do know that I did an adaptation of Jane Eyre during my sophomore year of highschool starring finger puppets. Literally just my fingers with google eyes stuck on and mouths drawn in Sharpie. My slender digits shared a truly rich, deeply felt performance compared to the cast of A Separate Peace. I see now why the guy who played Phinny never did another movie.
That one guy who played Brinker was easily 102 years old and clearly a cannibal. Funnily enough, he's younger than Parker Stevenson. I looked it up.
There's a whole scene where a busy body group of teens in robes breaks into some kind of weird clapping, flapping performance of "Hitler has only got one ball" (It's a real song!) that is stiff and disorienting even for a bunch of rich white kids. Why did that happen? It made no sense. How did they know who they were going to pick up and carry around? Did that guy also have only one ball? Was that an elected class position? If so, what was his campaign slogan? Honestly, it was baffling. Also, why did Phinny and Gene even go along with any of it? I guarantee you, if I'm ever in a situation like that and I get even a notion that a testicle based song and dance is about to happen, I will fight my way out. Forget missing balls, I'm ripping throats and eyes out.
Which brings me to Gene. He damn near claws Leper Lepellier's eyes out for no reason and leaves his "friend" curled up and bleeding from his eyes in the middle of a snowbank. Did not happen in the book. There was a section about dining rooms in the book. It was so good it actually made me appreciate dining rooms for once. Dining rooms have always been a notion that my feral, white trash ass considered overly fancy. And when Gene attacks, he has this stiff, arms out, hands tucked into claws posture that is almost identical to the pose I struck when I needed my diaper changed when I was a toddler. No joke. There's a picture somewhere to prove it.
That doctor was the worst. He was almost emotionless when delivering the news to an unsuspecting Gene that Phinny was dead. What an asshole this guy was. He just bopped by Gene in the hallway, was like "My dude, your boyfriend died of a broken leg because I'm not great at doctoring. That's good though cause it'll get you ready for all the death you're about to witness when you go to war." And then he just scoots back on down the hall to get a cup of coffee or some shit. The. Worst.
Why were there so many crowd scenes with indistinguishable dialog that focused on people who were not even in the main cast of the movie? Were they just hoping that one of those extras was a better actor than the dudes in the movie? Did the cinematographer just get bored and start shooting random stuff in the middle of scenes? Did the director lose a bet, the consequence of which was that he had to make an utterly confusing film? I don't know, my gals.
So, there you have it. Our second annual book club Christmas party and first annual book club movie night. The movie sucked but you guys were great and made it really fun. Next year let's watch Like Water for Elephants or, hell, even Lord of the G-Strings. You can at least follow the plot in that one.